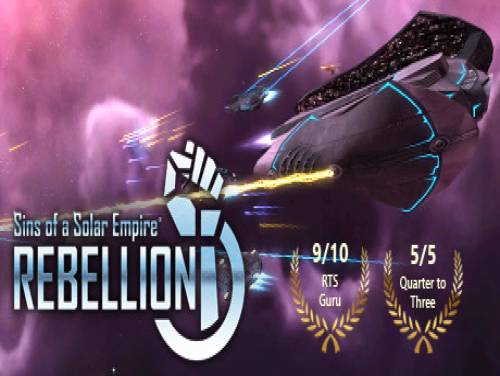 Salve e benvenuti su Apocanow. Vi presentiamo l'articolo che parla dei trucchi e codici di Sins of a Solar Empire: Rebellion. Speriamo che vi sia utile e vi possa permettere di migliorare la vostra esperienza videoludica.
Se hai trovato nuovi segreti o codici e vuoi condividerli, non esitare! Siamo sempre felici di poter integrare il nostro materiale con altro e di poterlo rendere disponibile a tutti.
Comanda un impero spaziale in Sins of a Solar Empire: Rebellion, la nuova espansione stand-alone che combina la profondità della strategia 4X con la giocabilità di quella in tempo reale.
Abbiamo materiale valido per PC. La lista delle console è in continuo aggiornamento dal 12/01/2012, data in cui Sins of a Solar Empire: Rebellion è stato pubblicato.
Scopri svariati Trucchi, Consigli e Strategie per Sins of a Solar Empire: Rebellion (PC): Navi Deboli e Metallo.
Sins of a Solar Empire: Rebellion ha a disposizione anche un Trainer promo. Se lo scarichi e lo esegui mentre giochi, ti permetterà di ottenere funzionalità nuove, in genere dei trucchi aggiuntivi non ottenibili in nessun altro modo.
Disponibile in coda all'articolo anche la lista degli Achievements di questo gioco con una indicazione su come sbloccarli.
Dopo questa introduzione sul gioco, ecco i trucchi che vi abbiamo promesso.