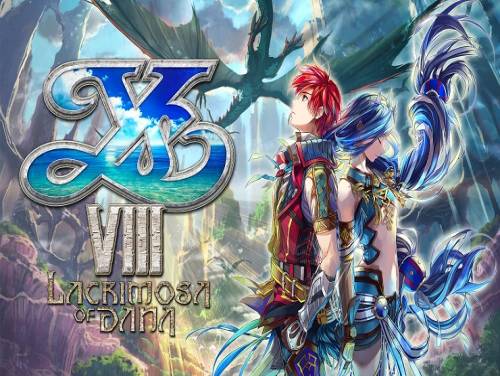 Benvenuti nelle nostre pagine, in particolare in quella dedicata ai trucchi di Ys VIII: Lacrimosa of Dana. Senza ulteriori ritardi andiamo a presentarvi questo articolo!
Speriamo che possa esservi di aiuto e che possiate apprezzare il nostro lavoro. Se hai trucchi da suggerire, commenta o contattaci e aggiorneremo la pagina.
Ys torna con una nuova avventura per la prima volta in 8 anni! Adol risveglia i naufraghi e rimane bloccato su un'isola maledetta. Lì, lui e gli altri naufraghi passeggeri che ha salvato formano un villaggio per sfidare le bestie spaventose e le rovine misteriose sulle isole isolate.
Questo gioco è stato rilasciato il 12/09/2017 ed i trucchi che possediamo sono validi per PC / PS4 / PSVITA. Questo elenco verrà aggiornato nel tempo ogni volta che ci accorgiamo dell'esistenza di nuove console sulle quali Ys VIII: Lacrimosa of Dana è stato pubblicato.
Scopri svariati Trucchi, Consigli e Strategie per Ys VIII: Lacrimosa of Dana (PC / PS4 / PSVITA): Salute Infinita e Oggetti Illimitati.
Non solo trucchi! Possiamo mostrarvi anche la soluzione di Ys VIII: Lacrimosa of Dana. Nella apposita pagina della soluzione di questo gioco ci sono alcuni video che ti mostrano la guida dettagliata per terminare il gioco. Il numero dei video dipende dalla longevità del gioco, quindi abbi pazienza e comincia la lettura.
Possiamo offrirvi, inoltre, anche il Trainer per questo gioco. In una pagina dedicata potrai scaricare il Trainer di Ys VIII: Lacrimosa of Dana, che ti permetterà di sbloccare dei nuovi trucchi non sbloccabili altrimenti.
Disponibile in coda all'articolo anche la lista degli Achievements di questo gioco con una indicazione su come sbloccarli.
Finite tutte le premesse, vi mostriamo i trucchi che abbiamo recuperato.