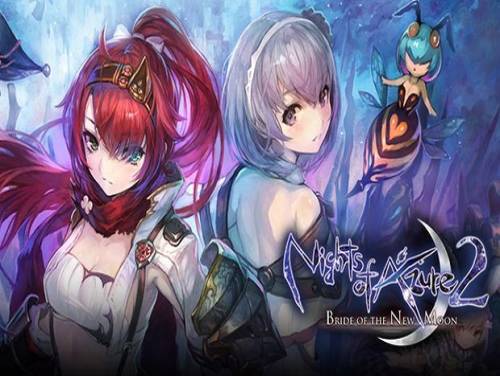 Benvenuti nelle nostre pagine, in particolare in quella dedicata ai trucchi di Nights of Azure 2: Bride of the New Moon. Senza ulteriori ritardi andiamo a presentarvi questo articolo!
Se sei in possesso di altro materiale non esitare a postarlo o a mandarcelo. Saremo felicissimi di postarlo all'interno dell'articolo con eventuali ringraziamenti.
La storia di tre splendide ragazze unite tra loro. Belle ragazze, Servan, battaglie e un sistema di crescita sono gli elementi che tornano, migliorati, in questo secondo capitolo della fiaba gotica RPG d'azione Nights of Azure.
Il nostro materiale può essere utilizzato con le seguenti console: PC / PS4 / SWITCH. Questa lista si aggiorna costantamente dal PC / PS4 / SWITCH ovvero da quando il gioco è uscito.
Scopri svariati Trucchi, Consigli e Strategie per Nights of Azure 2: Bride of the New Moon (PC / PS4 / SWITCH): Attivatore Veloce del Doppio Attacco e Attacco di Forza Illimitato.
Non solo, siamo in grado di offrirvi anche la soluzione di questo gioco! Consultate la soluzione di Nights of Azure 2: Bride of the New Moon di apocanow, ovvero una selezione di video di YouTube creata appositamente da utenti terzi allo scopo di guidare tutti gli altri giocatori verso il completamento del gioco. Spesso le soluzioni sono anche utili per completare Obiettivi e Trofei.
Per questo gioco abbiamo a disposizione anche il trainer promo! Un Trainer è un programma per PC che, se eseguito insieme al gioco, ti permette di sbloccare tantissimi trucchi.
In fondo alla pagina troverete anche una lista degli obiettivi sbloccabili in questo gioco con una piccola guida. La lista è in inglese ma abbiamo riportato anche una versione tradotta automaticamente per facilitarne la comprensione.
Dopo questa introduzione sul gioco, ecco i trucchi che vi abbiamo promesso.