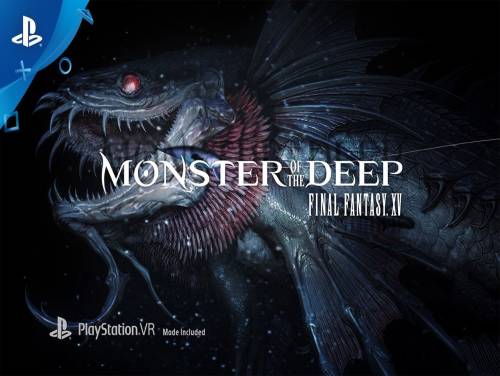 Salve e benvenuti su Apocanow. Vi presentiamo l'articolo che parla dei trucchi e codici di Monster of the Deep: Final Fantasy XV. Speriamo che vi sia utile e vi possa permettere di migliorare la vostra esperienza videoludica.
Se hai trovato nuovi segreti o codici e vuoi condividerli, non esitare! Siamo sempre felici di poter integrare il nostro materiale con altro e di poterlo rendere disponibile a tutti.
Monster of the Deep è un'espansione stand alone di Final Fantasy XV dedicata all'attività della pesca, in cui saranno presenti diverse modalità di gioco come Story Mode, Free Mode (con la possibilità di esplorare liberamente ogni location) e Mobhunts (che ci permetterà di guadagnare nuovi crediti per migliorare la nostra attrezzatura da pesca). Il titolo girerà su Playstation VR a 60fps, proponendo diversi stage in cui sarà possibile camminare per trovare il punto più favorevole per la pesca. Oltretutto saranno presenti anche alcuni stage segreti, in cui si potranno trovare pesci più rari.
Abbiamo materiale valido per PS4. La lista delle console è in continuo aggiornamento dal 21/11/2017, data in cui Monster of the Deep: Final Fantasy XV è stato pubblicato.
Scopri svariati Trucchi, Consigli e Strategie per Monster of the Deep: Final Fantasy XV (PS4): Guida agli Obiettivi del Gioco.
Non basta? Abbiamo anche la Soluzione di Monster of the Deep: Final Fantasy XV! Puoi trovarla nella apposita guida di Monster of the Deep: Final Fantasy XV di questo sito. All'interno della pagina ci sono uno o più video contenenti i vari pezzi di gioco. Se sei bloccato in qualche punto del gioco nessun modo è migliore di consultare i video che abbiamo raccolto per te.
Abbiamo inoltre raccolto per voi la lista degli Achievements con a fianco una piccola spiegazione tradotta su come ottenerli.
Finite tutte le premesse, vi mostriamo i trucchi che abbiamo recuperato.