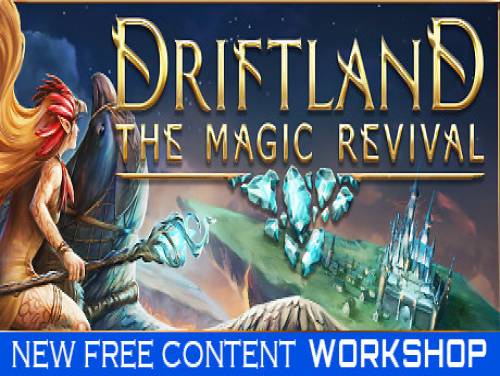 Benvenuto nell'articolo di questo sito associato ai trucchi e agli sbloccabili di Driftland: The Magic Revival. Tutti i segreti da noi conosciuti relativi a questo gioco sono scritti su questa pagina.
Ne conosci altri? Saremmo davvero felici di riceverli, in modo da poterli pubblicare sul sito aggiornando questo articolo.
Dopo una guerra devastante tra maghi, un potente incantesivo è tutto ciò che mantiene insieme il pianeta frammentato di Driftland. Sei un mago ed hai il potere di connettere territori. Crea un nuovo impero e riporta Driftland alla sua antica gloria.
Tutte le informazioni sui trucchi contenute in questo articolo sono valide per Driftland: The Magic Revival dal 29/10/2017, per le console PC. La lista viene aggiornata ogni volta che il gioco viene pubblicato per una nuova console.
Scopri svariati Trucchi, Consigli e Strategie per Driftland: The Magic Revival (PC): Aggiungi Legno e Aggiungi Diamanti.
Inoltre per Driftland: The Magic Revival puoi scaricare anche un trainer promo offerto da terze parti. Se eseguito insieme al gioco, questo trainer ti permetterà di attivare dei trucchi che non potresti ottenere in altro modo.
In fondo alla pagina troverete anche una lista degli obiettivi sbloccabili in questo gioco con una piccola guida. La lista è in inglese ma abbiamo riportato anche una versione tradotta automaticamente per facilitarne la comprensione.
Ed ecco ora finalmente i tanto attesi trucchi per questo gioco.