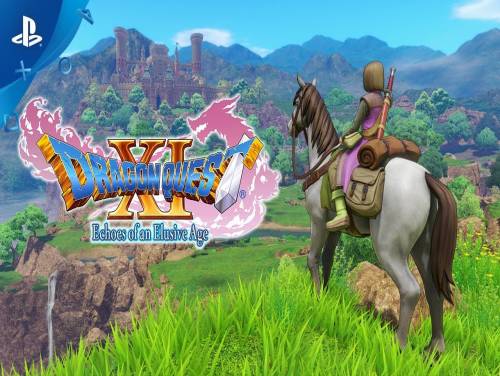 Siamo lieti di mostrarvi il materiale videoludico che abbiamo raccolto per Dragon Quest XI: Echoes of an Elusive Age!
Se conosci altri sbloccabili o strategie, non esitare a contattarci o a commentare l'articolo. Lo renderai più completo e più utile verso tutti i suoi visitatori.
Dragon Quest XI: Echi di una fantomatica Età narra un racconto affascinante di un cacciati eroe ed è l'attesissimo gioco di ruolo dal creatore della serie Yuji Horii, il character design di Akira Toriyama, e serie compositore Koichi Sugiyama. Come undicesimo principale voce dell'acclamata serie, Dragon Quest XI è completamente autonoma esperienza che funzioni completamente nuovi personaggi, splendidamente dettagliate mondo, finemente sintonizzato di combattimento a turni, e una coinvolgente storia che piacerà ai fan di lunga data e di franchising per i nuovi arrivati.
Abbiamo materiale valido per PC / PS4 / SWITCH. La lista delle console è in continuo aggiornamento dal 18/09/2018, data in cui Dragon Quest XI: Echoes of an Elusive Age è stato pubblicato.
Scopri svariati Trucchi, Consigli e Strategie per Dragon Quest XI: Echoes of an Elusive Age (PC / PS4 / SWITCH): Modifica ora del Giorno e Modalità Furtiva.
Non solo trucchi! Possiamo mostrarvi anche la soluzione di Dragon Quest XI: Echoes of an Elusive Age. Nella apposita pagina della soluzione di questo gioco ci sono alcuni video che ti mostrano la guida dettagliata per terminare il gioco. Il numero dei video dipende dalla longevità del gioco, quindi abbi pazienza e comincia la lettura.
Abbiamo inoltre trovato un Trainer per questo gioco. Questo programma per PC permette di aggiungere trucchi al gioco che non potresti ottenere in nessun altro modo e di attivarli mentre giochi.
Sotto ai trucchi troverete anche la Lista degli Obiettivi per questo gioco con una piccola spiegazione su come ottenerli tutti.
Passiamo a mostrarvi i trucchi dopo l'introduzione che abbiamo appena scritto.