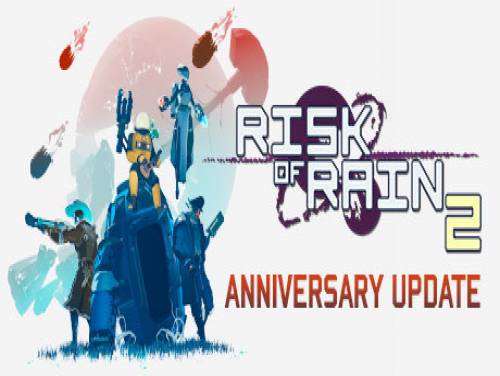 Benvenuti nalla pagina relativa ai trucchi di Risk of Rain 2. Vi mostriamo tutto il materiale che abbiamo trovato, essendo questo un sito completamente dedicato ai trucchi e alla soluzioni dei videogiochi.
Sei a conoscenza di altri trucchi o possiedi altro materiale? Inviacelo senza problemi! Puoi commentare questo articolo oppure contattarci in privato e saremo lieti di aggiornare la pagina anche con il contenuto del materiale che ci avrai inviato!
Risk of Rain, il classico gioco multiplayer roguelike, torna con una dimensione in più e sfide più impegnative. Gioca da solo, o alleati con fino a quattro amici per combattere contro orde di mostri, sbloccare nuovi oggetti e trovare il modo di fuggire dal pianeta.
Tutte le informazioni sui trucchi contenute in questo articolo sono valide per Risk of Rain 2 dal 28/02/2019, per le console PC. La lista viene aggiornata ogni volta che il gioco viene pubblicato per una nuova console.
Scopri svariati Trucchi, Consigli e Strategie per Risk of Rain 2 (PC): Elemento Moltiplicatore e Super Velocità Di Attacco.
Vorresti tanti trucchi per Risk of Rain 2 che non potresti altrimenti ottenere? Scarica il Trainer disponibile su questo sito in fondo alla pagina. Una volta eseguito ed attivato ti permetterà di aggiungere trucchi al gioco non ottenibili altrimenti.
In fondo alla pagina troverete anche una lista degli obiettivi sbloccabili in questo gioco con una piccola guida. La lista è in inglese ma abbiamo riportato anche una versione tradotta automaticamente per facilitarne la comprensione.
Dopo questa introduzione sul gioco, ecco i trucchi che vi abbiamo promesso.