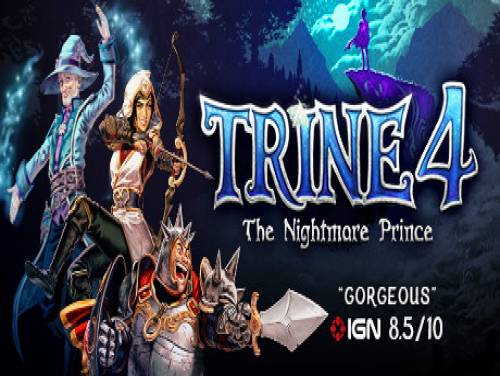 Benvenuto nell'articolo di questo sito associato ai trucchi e agli sbloccabili di Trine 4: The Nightmare Prince. Tutti i segreti da noi conosciuti relativi a questo gioco sono scritti su questa pagina.
Se sei in possesso di altro materiale non esitare a postarlo o a mandarcelo. Saremo felicissimi di postarlo all'interno dell'articolo con eventuali ringraziamenti.
La serie best seller di Trine ritorna alla magia del 2.5D! Assieme ai tre iconici eroi prendi parte alla missione che si svolge attraverso incantevoli paesaggi da fiaba e salva il mondo dalle tenebre del Principe dell'Incubo.
I trucchi in nostro possesso sono validi per PC / PS4 / XBOX ONE / SWITCH e dovrebbero essere tutti quelli validi fin da quando il gioco è uscito, ovvero il 8/09/2019. Aggiorniamo l'elenco delle console ogni volta che se ne aggiunge una nuova alla lista.
Scopri svariati Trucchi, Consigli e Strategie per Trine 4: The Nightmare Prince (PC / PS4 / XBOX ONE / SWITCH): Modifica: XP corrente e Super Danno.
Trine 4: The Nightmare Prince ha a disposizione anche un Trainer promo. Se lo scarichi e lo esegui mentre giochi, ti permetterà di ottenere funzionalità nuove, in genere dei trucchi aggiuntivi non ottenibili in nessun altro modo.
In fondo a questa pagina potrete leggere la lista degli Obiettivi da raggiungere per le corrispondenti console, insieme ad una piccola spiegazione su come raggiungerli.
Passiamo a mostrarvi i trucchi dopo l'introduzione che abbiamo appena scritto.