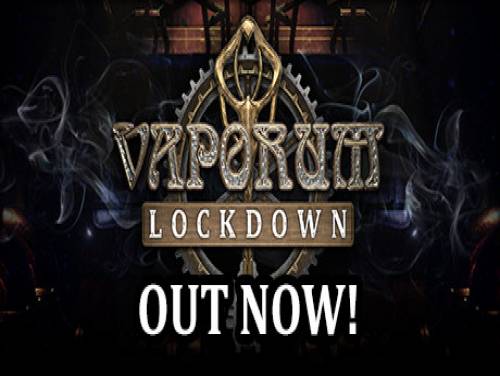 Benvenuto nell'articolo di questo sito associato ai trucchi e agli sbloccabili di Vaporum: Lockdown. Tutti i segreti da noi conosciuti relativi a questo gioco sono scritti su questa pagina.
Se sei a conoscenza di nuovi trucchi, saremmo felici di conoscerli. Contattaci o commenta questo articolo! Aiuterai anche altri utenti che sono alla ricerca.
Vaporum: Lockdown, a prequel to Vaporum, is a grid-based dungeon crawler RPG in an original steampunk setting, inspired by old-school classics of the genre. Follow the story of Ellie Teller, a scientist struggling to survive disastrous events that happened in the tower of Arx Vaporum.
Abbiamo materiale valido per PC. La lista delle console è in continuo aggiornamento dal 15/08/2020, data in cui Vaporum: Lockdown è stato pubblicato.
Scopri svariati Trucchi, Consigli e Strategie per Vaporum: Lockdown (PC): Consigli Utili.
Nella seguente pagina soluzione di Vaporum: Lockdown potrai vedere la raccolta di video presi da YouTube che abbiamo scelto per mostrarti il completamento passo per passo di questo gioco. Grazie ad essi sarai in grado di superare i blocchi e anche di capire come gioca un professionista per imparare.
Disponibile in coda all'articolo anche la lista degli Achievements di questo gioco con una indicazione su come sbloccarli.
Ed ecco ora finalmente i tanto attesi trucchi per questo gioco.