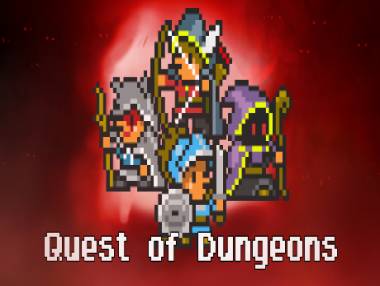 Salve! E' un piacere trovarvi sul nostro sito. Questa pagina riporta tutti i trucchi e i codici che siamo riusciti a trovare per Quest of Dungeons.
Se riesci a trovarne altri, non esitare ad inviarceli. Li aggiungeremo a quelli già esistenti con degli eventuali ringraziamenti pubblici.
Giocando come un Guerriero, Mago, Assassino o uno Sciamano si deve passare attraverso dungeon, sconfiggere i nemici e utilizzare tutto ciò che trovi lungo il tuo cammino per la sopravvivenza. È possibile imparare nuove abilità da libri che troverai lungo la strada e comprare / vendere oggetti nei negozi. Il gioco è casuale pertanto non troverai mai i nemici, oggetti o addirittura lo stesso percorso ogni volta che ricominci il gioco.
I trucchi in nostro possesso sono validi per PC / PS4 / XBOX ONE / SWITCH / 3DS e dovrebbero essere tutti quelli validi fin da quando il gioco è uscito, ovvero il 25/02/2014. Aggiorniamo l'elenco delle console ogni volta che se ne aggiunge una nuova alla lista.
Scopri svariati Trucchi, Consigli e Strategie per Quest of Dungeons (PC / PS4 / XBOX ONE / SWITCH / 3DS): Soluzione Completa.
Per voi abbiamo messo a disposizione anche la lista degli Achievements di questo gioco con una spiegazione tradotta automaticamente su come sbloccarli.
Grazie per aver letto questa breve introduzione. Andiamo ora a mostrare i trucchi.