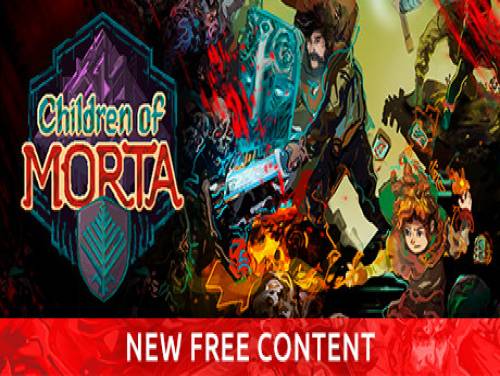 Benvenuto su Apocanow! Questo articolo parla di trucchi e codici del gioco Children of Morta e raccoglie in esso tutto il materiale videoludico riguardante questo gioco, in particolare anche Trainers, Achievements ed eventuali soluzioni.
Potrebbero non essere tutti! Se hai trovato qualcosa di nuovo contattaci o commenta questo articolo e saremo lieti di aggiungere il tuo materiale a quello già esistente.
Children of Morta è un gioco di ruolo d'azione basato sulla trama di una straordinaria famiglia di eroi. Guida i Bergson, con tutte le loro colpe e virtù, contro l'imminente Corruzione. Sarai in grado di sacrificare tutto per salvare le persone a cui tieni?
Questo gioco è stato rilasciato il 03/08/2019 ed i trucchi che possediamo sono validi per PC / PS4 / XBOX ONE / SWITCH. Questo elenco verrà aggiornato nel tempo ogni volta che ci accorgiamo dell'esistenza di nuove console sulle quali Children of Morta è stato pubblicato.
Scopri svariati Trucchi, Consigli e Strategie per Children of Morta (PC / PS4 / XBOX ONE / SWITCH): Sblocco di pietre preziose facili e Super Danno.
Oltre ai trucchi possiamo fornirvi anche le soluzioni di questo gioco sotto forma di video guida. Entra nella pagina della soluzione di Children of Morta e potrai trovare una guida passo passo per finire il gioco e, spesso, anche ai collezionabili del gioco.
Children of Morta ha a disposizione anche un Trainer promo. Se lo scarichi e lo esegui mentre giochi, ti permetterà di ottenere funzionalità nuove, in genere dei trucchi aggiuntivi non ottenibili in nessun altro modo.
Sotto ai trucchi troverete anche la Lista degli Obiettivi per questo gioco con una piccola spiegazione su come ottenerli tutti.
L'introduzione è finita. Ecco a voi i trucchi per questo gioco.