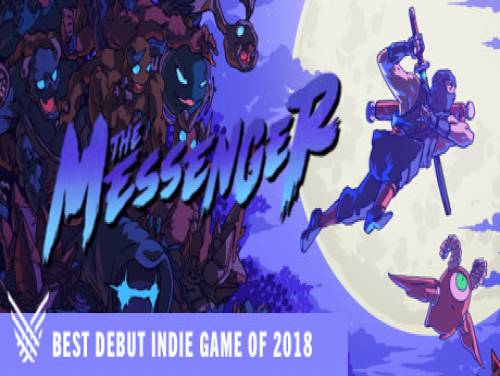 Benvenuto nell'articolo di questo sito associato ai trucchi e agli sbloccabili di The Messenger. Tutti i segreti da noi conosciuti relativi a questo gioco sono scritti su questa pagina.
Se sei a conoscenza di nuovi trucchi, saremmo felici di conoscerli. Contattaci o commenta questo articolo! Aiuterai anche altri utenti che sono alla ricerca.
Mentre un esercito di demoni assedia il suo villaggio, un giovane ninja si avventura in un mondo maledetto, per consegnare un rotolo fondamentale per la sopravvivenza del suo clan. Sfruttando le aspettative dei giocatori come ingrediente principale del design del gioco, The Messenger viene presentato per la prima volta come un platform d'azione a 8 bit con una storia semplice, che si dipana in un racconto epico itinerante, rivelando se stesso come un gioco Metroidvania a 16 bit ricco di replay e umorismo impassibile.
The Messenger è stato pubblicato il 08/18/2018 per PC / PS4 / XBOX ONE / SWITCH. Noi ci curiamo di aggiornare l'elenco delle console per il quale il gioco è stato pubblicato nel corso del tempo qualora i trucchi si applicassero anche alle nuove arrivate.
Scopri svariati Trucchi, Consigli e Strategie per The Messenger (PC / PS4 / XBOX ONE / SWITCH): Consigli Utili.
Non solo, siamo in grado di offrirvi anche la soluzione di questo gioco! Consultate la soluzione di The Messenger di apocanow, ovvero una selezione di video di YouTube creata appositamente da utenti terzi allo scopo di guidare tutti gli altri giocatori verso il completamento del gioco. Spesso le soluzioni sono anche utili per completare Obiettivi e Trofei.
Per voi abbiamo messo a disposizione anche la lista degli Achievements di questo gioco con una spiegazione tradotta automaticamente su come sbloccarli.
Passiamo a mostrarvi i trucchi dopo l'introduzione che abbiamo appena scritto.